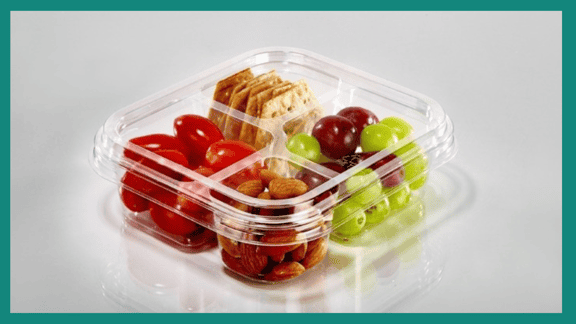 MANSFIELD, Mass. -- Lacerta Group, LLC ("Lacerta" or the "Company"), a leading designer and manufacturer of specialty thermoformed packaging solutions, has announced the launch of its Film Seal container line. The containers are available for order today.
The Film Seal line offers a cost-effective alternative to traditional stock containers, meeting increased consumer demands for sustainability, safety, and convenience.
"Despite an increased interest in sustainable packaging among consumers, inflation has caused many to shift back to cost-conscious habits," said Ali Lotfi, Chief Commercial Officer at Lacerta Group. "Our mission at Lacerta Group has always been to provide our customers with solutions that help them stay competitive while meeting increased demands from consumers.


With 35% material savings, our Film Seal container line enables kitchens to do just that; not only are they saving on cost, they are also providing a solution that requires less material."
The new Film Seal kit includes:
4 Compartment 6.1" x 5.5" Film Seal Container: T29911
Square 4 Compartment 6.5" Film Seal Deep: T29909
Square 4 Compartment 6.5" Film Seal Deep Lid: T29909-1
Rectangular Tub: T29993
Rectangular Single Compartment: T27073
Sandwich Wedge Film Seal: T27077
Rectangular Roll-Up Hoagie: T27076
Rectangular 3 Compartment Insert: T29994
Rectangle 3 Compartment Film Seal: T27075
Rectangle 2 Compartment Tray Film Seal: T27661
Bistro Box Lid: T26082-1
Bistro Box: T26082
Lid, 4 Compartment 6.1" x 5.5" Film Seal Container: T29911-1
Learn more about Lacerta Group's Film Seal lids and request a sample kit here.
About Lacerta Group
Founded in 1993, Lacerta Group, Inc. is a leading provider of innovative thermoformed packaging solutions. The Company has built its reputation based on product integrity, excellent customer service, and above all, speed to market. Lacerta offers a comprehensive product portfolio and in-house design capabilities, with a customer-centric business model focused on tailored solutions for food processors and supermarkets.
The Company's fully integrated manufacturing platform includes capabilities across the product lifecycle in design & engineering, prototyping, mold-making & tooling, thermoforming, extrusion, and printing. Learn more by visiting www.lacerta.com.
*This press release was originally published on
FoodDive.