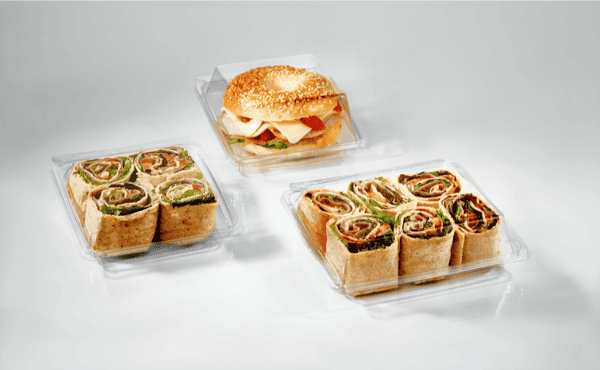 Lacerta Group, Inc. has been hard at work developing new tamper-evident sandwich containers to add to our Fresh N'Sealed line. Recently, we launched three new sandwich packages that are intended to attractively display sandwiches, pinwheels, baked goods, and more!
Packaging for your pinwheel sandwiches should showcase the intricate cross-section of your pinwheels, allowing the consumer to see all the layers and colors of the sandwich. Our four and six-count pinwheel containers are designed to maximize the window and decrease the amount of ribbing in order to create a sleek package with as much display area for your products. Our square 5 x 5 deli container follows a similar design to the pinwheel containers but has more height to the package.
All three of these containers are made of crystal clear PET that is crack-resistant, recyclable, and can be in up to 100% Post-Consumer Recycled PET. They feature a unique tamper-evident design with a tear strip that ensures quality and freshness and eliminates the need for shrink bands or wrap-around labels.
Check out Lacerta's Fresh N'Sealed catalog to see the rest of our tamper-evident line!